Services
From consultancy to web design, Squirrel Solutions offers a range of services to meet the needs of small businesses.
Web sites

Whether you want a simple Web presence, or a fully featured e-commerce site with online ordering, we can come up with the right solution for you - at a price that's right.
Using our in-house Easywebz hosting platform, we can create a fast-loading site with a content management system which lets you make updates as easily as using Microsoft Word. All our designs are responsive, so they will work on everything from a feature phone to a desktop PC. More...
Consultancy
Whatever your IT requirements, we can come up with a solution to your needs. Whether you just need an extra PC for the office, or a complete server solution, we can cover your requirements completely. We'll provide you with a one-stop solution from start to finish. More...
PC repairs and upgrades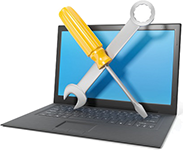 Squirrel Solutions Ltd offers a fixed cost on-site PC repair service to customers in the Gloucestershire, Bristol, North Somerset and Wiltshire areas. If your computer is playing up, we'll come out and repair it for a flat fee of £100, plus any required parts.
And if we can't fix it, there's no fee.
More...