PC systems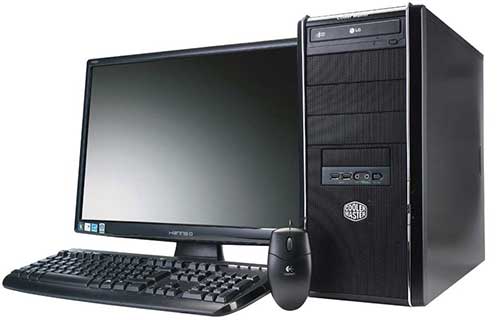 Squirrel Solutions Ltd will supply your business with anything from a single standalone PC for the sole trader to a full suite of computers for a corporate customer.
All our PC systems are custom built to order using only high quality branded components to ensure reliability. The exact specification will vary as pricing of computer components is highly volatile, but a typical system spec would be:
Dual or quad core AMD A-series APU with Radeon graphics
8GB DDR3 RAM
Choice between 128GB SSD or 500GB SATA hard drive
Dual-layer SATA DVD/CD writer
21" full HD (1920x1080) LED monitor
Logitech wired keyboard and mouse
Microsoft Windows 7 Ultimate 64-bit
Microsoft Office 2016 Professional 64-bit
Anti-virus with inclusive updates for the lifetime of the system
System price: £695 including delivery, installation, 90 days on-site warranty and 12 months Return To Base warranty
All PC systems ordered for corporate customers that are to be joined to an Active Directory domain will be supplied with a 128GB SSD instead of a traditional hard drive. There is no requirement for large amounts of local storage on such a PC as all user data would be stored on your server, and the speed and performance benefits gained by using a SSD are massive.
Systems can be customised to suit your exact requirements. For example, corporate customers may wish to substitute the DVD writer with a read-only drive to prevent data theft. Alternatively you may wish to omit the optical drive entirely and install all software over the network. A sole trader with a stand-alone PC may require a hard drive bigger than 500GB. Or you may wish to add a memory card reader for downloading photos from a digital camera. Whatever your requirements, we can customise the system to suit.
Please note that as standard, these PCs do not come supplied with any desktop speakers. Our corporate customers requested that speakers be omitted. A pair of PC speakers can be supplied on request at no extra charge.
All Squirrel Solutions PCs are supplied with Microsoft Windows 7 Ultimate Edition unless otherwise specified. We do not supply Home Premium or Home Basic, as these will not allow you to connect to an Active Directory domain. They also do not have the security and data encryption features of Ultimate.
We can supply Windows 10 Pro if required, however we would not recommend this for PCs on an Active Directory domain.
To obtain a custom quote please contact us with your exact requirements or call us on (01453) 845735 between 9am and 5:30pm Monday to Friday,